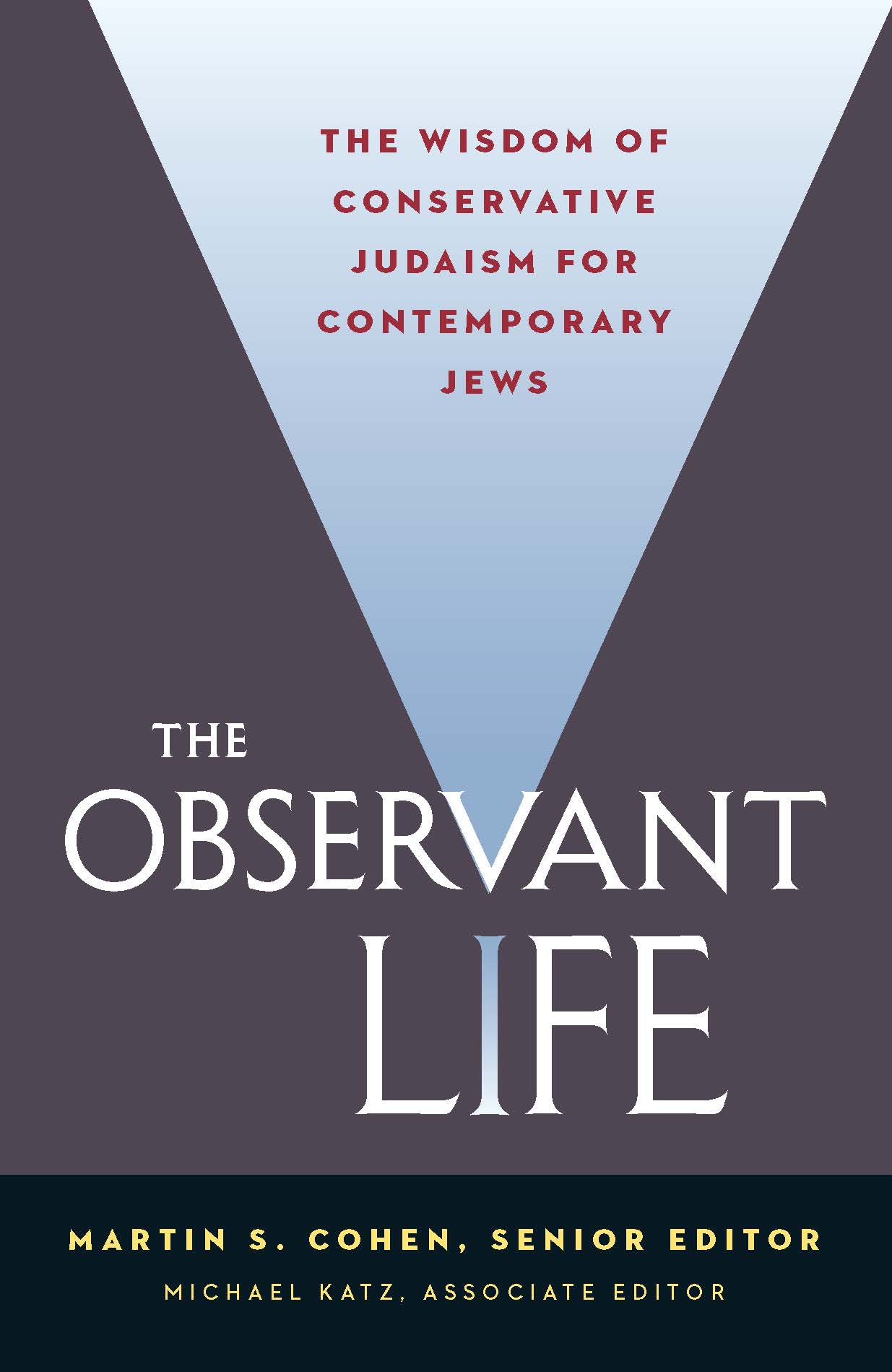 As we approach the holiday of Shavuot, I'm delighted, on behalf of the Rabbinical Assembly, to let you know about the RA's publication of a groundbreaking work that I believe serves as the spiritual blueprint for the Conservative/Masorti Movement. Authored and edited by the leading lights of our contemporary Jewish community, the work provides realistic, pragmatic and valuable insights into the challenges of living an observant Jewish life in the 21st century.
A decade in the making,

The Observant Life: The Wisdom of Conservative Judaism for Contemporary Jews,

edited by Rabbi Martin S. Cohen (senior editor) and Michael Katz (associate editor)

distills a century of thoughtful inquiry into the most profound of all Jewish questions: how to suffuse life with timeless values, how to remain loyal to the covenant that binds the Jewish people and the God of Israel and how to embrace the law while retaining an abiding sense of fidelity to one's own moral path in life.
With chapters on the environment and treatment of animals and material ranging from Shabbat and Kashrut to relationships between co-workers and employers and employees, we know you will regard The Observant Life as a source of inspiration and ideas, a perfect teaching resource. Written in a multiplicity of voices inspired by a common vision, the authors of The Observant Life explain what it means in the ultimate sense to live a Jewish life, and to live it honestly, morally, and purposefully.
Please feel free to be in touch with us regarding the variety of ways in which The Observant Life can enrich your personal and professional realms. More information about the book is available on the RA website.
The Rabbinical Assembly is making the book available to those on the Shefa list at a discounted price of $22 through 8/31/2012! You can
purchase the book
with the promotional code
TOL831SHF
for a discounted price of $22 Enter the code at checkout. "
CLICK HERE TO PURCHASE THE OBSERVANT LIFE!
"
An early Chag Shavuot Sameach!
-
-
-
-
-
-
-
-
-
-
-
-
-
-
-
-
-
-
-
-
-
-
-
-
-
-
-
-
-
-
-
-
-
-
-
-
-
-
-
-
-
-
-
-
-
-
-
-
-
-
-
-
-
-
-
-
-
-
-
-
-
-
-
-
-
-
-
-
-
-
-
-
-
-
-
-
-
-
-
-
-
-
-
-